Pickaxe Name
Image
Strength*

Critical*

Cost
Pickaxe Power**
Rating
Notes
Wood
1
1%
Free (After prestige, 25 wood)
On Fire
Common
Clay
2
1%
100 Clay
On Fire
Common
Pumpkin

Scaled

Scaled

100 Pumpkin
Spooky Flame (Break blocks with one strike and collact Spooky Candy)
Rare
Cactus
3
2%
250 Cactus
On Fire
Common
Sandstone
4
2.5%
500 Sandstone
On Fire
Common
Glass

Scaled

Scaled

100 Glass
Shatter (Burst pickaxe into shards earning 10 glass blocks)
Rare
Birchwood
5
2.5%
500 Birchwood
On Fire
Common
Ice
6
2.5%
500 Ice
On Fire
Common
Stone
7
3%
500 Stone
On Fire
Common
Iron
8
3%
300 Iron
On Fire
Common
Lapis
9
3%
500 Lapis Lazuli
On Fire
Common
Gold
10
3.5%
300 Gold
On Fire
Rare
Diamond
11
4%
250 Diamond
On Fire
Rare
Emerald
12
4%
100 Emerald
On Fire
Rare
Obsidian

Scaled

Scaled

250 Obsidian
On Fire
Rare
Bedrock

Scaled

Scaled

100 Bedrock
On Fire
Rare
Glowstone
13
4.3%
100 Glowstone
It's Lit (Seems to have longer duration than On Fire)
Common
Ruby
14
4.5%
100 Ruby
On Fire
Rare
Red Sandstone
15
5%
500 Red Sandstone
On Fire
Common
Topaz
16
5.5%
100 Topaz
On Fire
Rare
Flower
17
6%
250 Orchid Seeds
Fire Flower
Common
Jade
18
6%
100 Jade
On Fire
Rare
Coral
19
6.5%
500 Coral
Starfish Outcry (Summon a school of starfish)
Rare
Trident
20
7%
500 Prismarine
Tidal Wave
Common
Pearl
21
7.5%
100 Pearl
On Fire
Rare
Moon
22
8%
1000 Moon Rock
On Fire
Common
Asteroid

23
9%
200 Lunar Meteorite
Asteroid Shower ( Summons asteroids)
Rare
Alien
24
14%
250 Alien Ooze
Alien Flame
Rare
Martian

25
11%
500 Martian Soil
On Fire
Common
Opal

26
11%
250 Opal
On Fire
Rare
Basalt

26
12%
500 Basalt
On Fire
Common
Cinnabar

27
12%
250 Cinnabar
On Fire
Rare
Molten

Scaled

Scaled

1000 Magma Block
Volcanic Spike! (Summon a Volcanic Spike for a block explosion)
Epic
Amber

28
13%
250 Amber
On Fire
Rare
Mushroom

29
12%
500 Red Mushroom
On Fire
Common
Circadian

Scaled

Scaled

100 Circadian Dust
Time emiT (Switches to night or day)
Rare
Purpur

30
10%
500 Purpur
On Fire
Common
Endstone

31
10%
500 End Stone
On Fire
Common
Amethyst

32
10%
250 Amethyst
On Fire
Rare
Aether

Scaled

Scaled

250 Aether Dust
Quintessence (Break blocks with one strike)
Epic
Radioactive

Scaled

Scaled

100 Refined Waste
Gamma Rays (Breaks blocks until it finds at least 5 rares)
Epic
Welcome to the new age
Cursed

Scaled

Scaled

250 Cursed Book
Blighted (Becomes more powerful with every Cursed Book you possess)
Epic
B & W

Scaled

Scaled

Chest (After prestige, 15 runic)
On Fire
Epic
May instant-break blocks
Bone

Scaled

Scaled

Chest (After prestige, 10 runic)
Super Claw
Rare
Chance to find a Wolf on block break
Chest

Scaled

Scaled

Chest (After prestige, 10 runic)
On Fire
Rare
May net multiple blocks on break
Cookie

Scaled

Scaled

Chest (After prestige, 15 runic
On Fire
Epic
x2 Picks with this Pickaxe
Arctic Copper

Scaled

Scaled

Chest (After prestige, 15 runic)
Fossil Freeze (Burst of frost causing an explosion of blocks)
Epic
Creep

Scaled

Scaled

300 Gunpowder
Tsss (Trigger a blast causing an explosion of blocks)
Rare
Mobs appear more frequently with this pickaxe equipped.

One-shots Creeps

Divine

Scaled

Scaled

Ender Chest (After prestige, 20 runic
Let There Be Light (Summon angelic rays to auto break blocks)
Legendary
Fire

Scaled

Scaled

Chest (After prestige, 20 runic)
Blue Fire (Break blocks in one strike with +1 blocks on break)
Legendary
Flame Hammer

Scaled

Scaled

Chest (After prestige, 20 runic
Fire Rain (Calls upon the ancient gods to rain FIRE)
Legendary
Heart

Scaled

Scaled

Chest (After prestige, 15 runic)
Mob Attraction (Summon random mobs)
Epic
Laser

Scaled

Scaled

Chest (After prestige, 20 runic)
Triple Beam (Tap and hold to unleash your overloaded laser)
Legendary
Lightning

Scaled

Scaled

Chest (After prestige, 10 runic)
Thunder Clap

(Burst of lightning causing an explosion of blocks)

Rare
Magic Wand

Scaled

Scaled

250 Magical Books (After prestige, 20 runic)
Call of the Ancients (Summons 1 out of 3 random ancient spells)
Legendary
Mythic Hammer

Scaled

Scaled

Chest (After prestige, 15 runic)
Dual Wield (Break blocks in one strike with greatly increased PPS)
Epic
Magic Paintbrush

Scaled

Scaled

Chest (After prestige, 15 runic)
Splat! (Paint blocks in one strike)
Epic
Rainbow

Scaled

Scaled

Chest (After prestige, 15 runic)
Rainbow Madness

(Vastly increases the Picks you gain from picking)

Epic
Retro

Scaled

Scaled

Chest (After prestige, 15 runic)
Pixelate (Break blocks with one strike)
Epic
Sono's Pickaxe

Scaled

Scaled

Chest (After prestige, 20 runic)
DJ (Plays a random track, auto breaks blocks)
Legendary
Untss Untss Untss
Torch

Scaled

Scaled

Chest (After prestige, 10 runic)
On Fire
Rare
May ignite on impact
Unstable

Scaled

Scaled

Ender Chest (After prestige, 20 runic)
Time Manipulator (Time slows down or speeds up
Legendary
Chronos himself used to possess this...
Yogg's Tentacle

Scaled

Scaled

Chest (After prestige, 20 runic)
Gateway (Summon random blocks)
Legendary
Bunny

Scaled

Scaled

Chest
Carrot Barrage (Barrage of carrots to break blocks)
Legendary
Candy

Scaled

Scaled

Chest (After prestige, 15 runic)
Blizzard (Break blocks with one strike)
Epic
Harvest Dinner

Scaled

Scaled

6 Harvest Dinner
Dinner is Served (Summons special friends to dinner)
Epic
Leaf

Scaled

Scaled

80 Leaf
Leafy Explosion (Bursts of leaves causing an explosion of blocks. Also causes leaves to fall)
Epic
Pot of Gold

Scaled

Scaled

Chest (After prestige, 15 runic)
Rainbow Burst (Blast of color causing an explosion of blocks)
Epic
Spooky Lantern

Scaled

Scaled

250 Rare Spooky Candy
Eerie Light (Break blocks with one strike

Light all the flames to refresh pickaxe power)

Rare
Firework

Scaled

Scaled

Chest (After prestige, 20 runic)
Celebration (Break blocks with one strike)
Legendary
Chronos

Scaled

Scaled

Chest (After prestige, 20 runic)
Fractured Timepiece (Slows down time)
Legendary
Anti-Chronos

Scaled

Scaled

Chest (After prestige, 20 runic)
Swift Timepiece (Speeds up time)
Legendary
Scarecrow Pickaxe

Scaled

Scaled

Pumpkin Chest (upgrade cost needed)
Spooky Cauldron (Summon a random effect Break blocks with one strike)
Epic
*Scaled Pickaxes have stats based on the strongest Pickaxe of the same level
**All Powers break blocks in one strike unless otherwise noted
Upgrading Pickaxes
Edit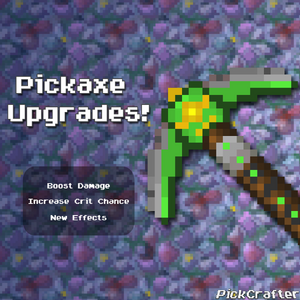 After prestiging, upgrades for the pickaxes become available. Each upgrade adds the basic pickaxe damage by 32. Each level may increase the critical chance.
Ad blocker interference detected!
Wikia is a free-to-use site that makes money from advertising. We have a modified experience for viewers using ad blockers

Wikia is not accessible if you've made further modifications. Remove the custom ad blocker rule(s) and the page will load as expected.