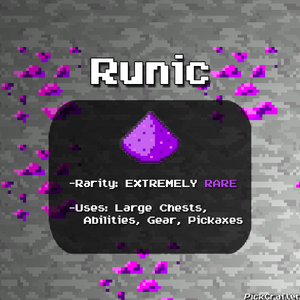 Runic can be found in free chest or buy for real money in the shop.
Buying Large version of gold, diamond and mythical Chests

150, 500, and 800 runic respectively

Cooldown refresh (for abilities)
Instant mob (summon a random, biome-related mob)
Upgrading your Pickaxes to the next tier

10, 15, or 20 runic, depending on the pickaxe
There is a 'runic' pickaxe which is unlocked from buying elite membership! Video HERE!